Lodging in Blekinge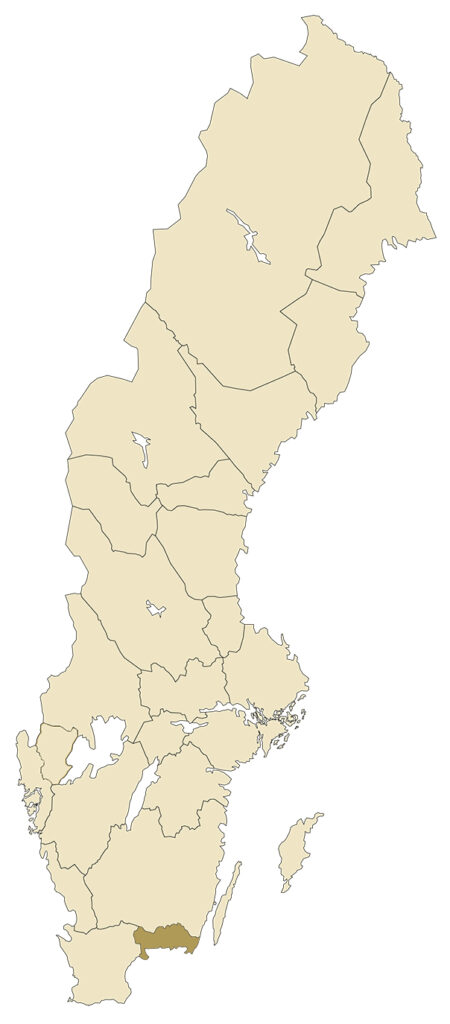 Lodging can be found in:
---
---
Långasjönäs Camping & Holiday Village
Fishing close by: River Mörrumsån, Lake Långasjön, Kroksjöarna lakes
Långasjönäs Camping & Stugby is located in the middle of the Långasjönäs nature preservation area with several nice hiking trails. If you love peace and quiet, close proximity to nature, singing birds and tranquil views of a lake then you will get to the right place.
Here we have a campsite with 90 pitches, of which 70 pitches with electricity. Our holiday village has 53 cottages, ranging from 9 sqm to 50 sqm, from simple overnight cottages to cabins with shower and toilet. You choose how you want to stay.
In the middle of the area there is a beach with lovely sandy beach and Blekinge's warmest bathing water! There are also good fishing lakes with populations of rainbow, pike, perch, zander, etc. We sell fishing licenses to these lakes. One of the world's best salmon fishing is just around the corner (Mörrums Kronolax fishing). Here we have fishing opportunities for everyone, from recreational fishing to sports and fly fishing and everything in between.
With us you can rent bikes, boats, kayaks and canoes, play miniature golf, and much more. Close to Blekinge's largest golf course.
Address:
Långasjönäs Camping & Stugby
Långasjönäsvägen 49
SE-37491 Asarum
Sweden
Phone: +46 (0)454-320691
Mobile: +46 (0)702-656811 (Bert Lock)
Mobile: +46 (0)702-758886 (Magdalena Lock)
E-mail: info@langasjonas.com
Website: www.langasjonas.com/ for more info
Facebook: https://www.facebook.com/langasjonas/
---
---
Garnanäs Sport Fishing Camp
Fishing close by: Blekinge archipelago, Östre Fjorden, Järnavikafjorden, lake Ryssjön, river Bräkneån, river Ronnebyån, bay of Pukaviksbukten, river Mörrumsån.
Garnanäs Farm is located a stone's throw from the sea in southern Blekinge's amazing archipelago, between Karlshamn and Ronneby. We offer the opportunities for wonderful nature experiences and amazing fishing trips.
Our specialty is sport fishing and Garnanäs is a fishing paradise all year round. Here we fish on pike, sea trout, salmon, cod, perch and herring among the archipelago islands and coves. The pikefishing is among the best in Sweden, according to many anglers.
On our farmhouse from the 1870s we offer accommodation in modern self-catering apartments and cozy cottages of size from 15 sqm to 80 sqm. All accommodations are well-equipped and also have their own patio with garden furniture and barbecue. All our accommodations (except one) are approximately 200m from the sea where we have our own "dock" and boat landing ramp.
For fishermen who want to increase their opportunities to catch fish, we also offer guided fishing trips with guides who can fish the waters around Garnanäs.
We have 15 motor boats available for hire. The boats are complete with anchors, life jackets, oars and fishing charts marked with fishing hot-spots. The boats can be equipped with electric motor.
We can also offer families with children a relaxing experience. Nearby is our nature preservation park, a beautiful coastal landscape with 22 hectares of woodlands with deciduous forest. Here you can wander freely and enjoy nature. Around the farm there are swimming possibilities, boats for rent, islands and wildlife to discover
If you have any requests for any special activity during your stay with us, please feel free to contact us. We are open for specific requests if it is possible for us to implement. Warm welcome!
For more information visit our website: http://www.fishingcamp.se
Address:
Garnanäs Fiskecamp
Garnanäs Gård
SE-37010 Bräkne-Hoby
Phone: +46(0)457-82 000, Mobile. +46(0)704-333 435
E-mail: garnegard@fishingcamp.se
---
Ängholma Bed & Breakfast
Fishing close by: Järnaviksfjärden, Bräkneån, Ronnebyån, river Vierydsån, Vierydsfjorden, Bay of Pukavik.
You are welcome to nice and peaceful accomodation in our cabin located at private beach in Vierydsfjorden at Blekinge archipelago. Suitable for horsemen, golfers, bathing, hikers, bikers and fishermen. You can enjoy our wood fired sauna or take a trip in the coastal area with our canoe.
You can chose between Bed & Breakfast or self-catering. Year round cabin named Skrakboet, two bedrooms, 5 bed seats, bathroom with shower, kitchen and living room. Private bathing beach and access to your own boat.
We have two cats and three dogs but we do not allow our guests to bring their own pets to Skrakboet.
Our surroundings offer a wide selection of fishing, both pike and perch fishing in Vierydsfjorden. Nearby fishing in river Vierydsån, river Bräkneån and river Ronnebyån. Salmon fishing in river Mörrumsån is only few miles away. Also trolling fishing in bay of Pukavik.
Address:
Väbynäsvägen 1
SE-37263 Bräkne-Hoby
Sweden
Phone: +46 (0)733-992065
E-mail: welcome@angholma.se
Website: www.angholma.se for more info
Contact person: Eva Malmport
Our goal is to give you a calm and relaxing stay, high quality accommodation, nice and flexible service.
---
Svalemåla Turism – Cabins, Sul, Bathe & Fishing –
(located at Järnavik)
Fishing close by: Järnaviksfjärden, river Bräkneån, river Ronnebyån, river Vierydsån, Pukaviksbukten, river Mörrumsån.
Welcome to Svalemåla Holiday Village – located in the Blekinge archipelago.
Modern cabins for rent, for 4-6 persons. Fully equipped, all with view of the bay of Svalemåla at the small fishing village Gyön.
You can rent motor boats (9,8hp 4-stroke motors) and also Kayaks and bikes.
Best area in Blekinge for catching big pike. We have our own boat ramp for easy water access if you bring own boat. You can slo catch both perch, sea trout or cod in nearby waterareas.
Nearby rivers are Bräkneån (2 km), Ronnebyån (20 km) Vierydsån (5 km) and it is not far to river Mörrumsån (30km).
Visit our website for more info.
Svalemåla
Svalemålavägen 11
SE-37263 Bräkne-Hoby
Sweden
Cell phone: +46 (0)708-180022
E-mail: info@svalemala.se
http://www.svalemala.se
Contact person: Johan Kalmteg
---
---
Sibbaboda Stuguthyrning
Fishing close by: East coast of Blekinge, Karlskrona Archipelago
Located on the East coast of Blekinge, only 150 meters from the shoreline, approx. 20 km east of Karlskrona. We offer accommodation in 2 or 4-6 bed cabins with WC and shower.
Very good pike fishing in Spring and Fall, boat are included in the price for the cabin. For additional fee the boat can be equipped with motor.
Guiding can be arranged during weekends.
The cabins can be rented per week or weekend. For more info check out our website: www.sibbaboda.com
Address:
Sibbaboda Stuguthyrning
Sibbaboda 1
373 00 Jämjö
Sweden
Phone: +46 (0)455-52334
Cell phone: +46 (0)733-523344
E-mail: postmaster@sibbaboda.com
Contact person: Pär Håkansson
---
---
Camp Dragsö Sportfishing
Fishing close by: Blekinge archipelago, Karlskrona archipelago
Camp Dragsö Sportfishing specialize in pike fishing and is located right in pike fishing capital city of Karlskrona in Blekinge archipelago.
We offer quality fishing opportunities with several classes of accommodation and boats. You can choose according to your needs or by your budget.
Our holiday village consists of:
11 smaller cottages where there are kitchen, free WiFi and tv's. Toilet and shower is it in one of our service building.
Our middle class homes have both a kitchen, toilet, shower and TV, and consists of two rooms with a patio.
Our luxury cottages built in 2008 has two rooms and a kitchen. They have underfloor heating, dishwasher, stove and oven, fridge freezer, flat screen TV with DVD and roofed patio.
In total there are 26 cabins, 20 rental motor boats and a guide boat Silverhawk 540. From 2014, we have Jackson Cuda fishing kayaks for rent.
Read more about what we offer on our website.
Address:
Camp Dragsö Sportfishing
Dragsövägen 14
SE-37137 Karlskrona
Sweden
Phone: +46 (0)455-15354
Fax: +46 (0)455-15277
Skype: dragso.se
E-mail: info@dragso.se
http://www.dragsosportfishing.se
---
---
Lyckåhem
Fishing close by: River Lyckebyån
Youth hostel, hotel. 99 beds. Central location at highway 22, at Karlskrona Angöring, 6 km from Karlskrona city.
Address:
Lyckåhem
Afvelsgärdevägen 31
SE-371 63 Lyckeby
Sweden
Phone: (0)455-96000
http://www.lyckohem.se
---
---
Mörrum River Lodge
Fishing close by: Mörrums Kronolaxfiske, River Mörrumsån
Mörrum River Lodge – Pool 17
An extraordinary experience in Blekinge! The classic smokehouse 1890 next to at the King Bridge has been renovated to the highest international standard. The rooms have a beautiful view of the pool 17, free WiFi, parking, shower and toilet.
There is also a separate building for storage of waders, fly rods, etc. At the lodge there fly tying table, library, pub and restaurant on the terrace overlooking the pool 17.
Nestled in the lush forest of Blekinge, the Mörrum River is a paradise for any fisherman. Fish for salmon and sea trout in the river, hunt for giant pike in the nearby archipelago or cast a small dry fly to the selective trout in the small streams in the area. The Mörrum River in Sweden is best known as a world-class river for fishing large salmon and sea trout. The size of the salmon and sea trout is amazing, the river is one of the few places where you have a good chance in hooking a 40 Ibs + salmon and a 25 Ibs + sea trout.
Our guides are all experienced fishermen and are happy to accommodate your fishing preference and style. Our guides are professional, hard working and service minded with years of experience from Salmon fishing in Sweden and from the Mörrum River.
An accommodation and an experience of the highest international standard! Several different packages are available that also include fishing, breakfast and lunch. welcome.
Address:
Mörrum River Lodge
Bygatan 6
SE-375 34 Mörrum
Sweden
Phone: +46 (0)454-50330
E-mail: info@morrum.se
www.morrum.se
www.morrumriverlodge.se
---
Villa Åkroken
Fishing close by: Mörrums Kronolaxfiske, River Mörrumsån
Villa Åkroken is located 200 metres from Mörrums River. It offers free parking, free Wi-Fi access and a fully equipped kitchen. Central Mörrum is a 7-minute walk away.
A seating area and a flat-screen TV are featured in the brightly decorated living room at Åkroken Villa. Kitchen facilities include a stove, fridge and microwave. The villa also has a washing machine and clothes dryer.
Guests can relax in the garden which includes a furnished patio and BBQ facilities. An outdoor storage room is available at the property.
Villa Åkroken
Mörrum
Sweden
All contact is done through Port Hotel in Karlshamn
---
Hus i Mörrum
Fishing close by: Mörrums Kronolaxfiske, River Mörrumsån
Fiskeshopen Mörrum and Lars Terkildsen offer accommodation with view over pool 17 river Mörrum.
Big house with 6 beds divided over two rooms. Bath room with WC and shower. Kitchen and living room.
Parking for the car.
Reservation is made by phone or mail.
Address:
House in Mörrum
Bygatan 5
Mörrum
Phone: +46 (0)708-197107 (Lars)
E-mail: igfa@yahoo.com
http://www.fiskeshopen.com/sida/Om-huset-pa-Bygatan-5
---
---
Brokamåla Gård
Fishing close by: Lake Gatgylet, Lake Aspegylet, River Flugströmmen, Harasjömåla Fishing area, River Mörrumsån
Spending time in the woods, listening to the silence, fishing, hiking or picking mushrooms, is an unbeatable nature experience. Being in nature also increases ours well-being and strengthens health. For many people have silence and silence disappeared. Brokamåla Farm, Sweden's southernmost wilderness offers just that which many people lack and need.
We can offer you a wonderful and relaxing stay. Here you have access to more than 25 lakes, with nice accommodation nearby, the cottages have high and modern standard. The cabins are between 55 and 95 square meters and consist of kitchen/living room and 2-3 bedrooms, toilet/shower.
Exclusive fishing in the natural environment, boats, baths, and nice walking areas. Why not enjoy this during all four seasons at Brokamåla Farm.
Warmly welcome to one of Blekinge's best places!
There are row boats for our lakes. Fishing rods can be rented.
Check out our YouTube presentation
Address:
Brokamåla Gård (Farm)
Nyteboda V 337
SE-293 91 Olofström
Sweden
Phone: +46 (0)454-470 54 or +46 (0)70-914 93 94
E-mail: info@brokamala.se
http://www.brokamala.se/
Contacts: Lars & Maria Sällström
---
Halens Camping & Fritidsområde
Fishing close by: Lake Halen, Kronofiske Harasjömåla, Kronofiske Mörrumsån, Lake Holjeån, Lake Ivösjön, Lake Grundsjön, Lake Immeln
The recreation area of Halen, with first class camping and full service capabilities, is situated on the eastern shore of lake Halen, it is only two kilometre from the small town of Olofström and it is a perfect starting point for all kinds of activites; hiking, biking, canoeing.
In Halen's recreation area there is a camping site, both tent and caravans, a youth hostel and cottages. Perfect located by lake Halen, close to the nature, the canoeing central, bathing places, fishing, hiking tracks and to the central Olofström.
Canoes, rowing boats and bicycles are for rental.
Address:
Halens Camping & Recreation AreaHalenvägen 321
SE-29339 Olofström
Sweden
Phone: +46(0)454-402 30
www.halenscamping.se
---
Harasjömåla Camping
Fishing close by: Kronofiske Harasjömåla
Camp site for tents and caravans. Cabins and cottages for rent.
Located inside a Sportfishing area. 23 lakes that offer put&take fishing for rainbow, trout. Also fishing for pike and perch.
Address:
Harasjömåla Camp Kronofiske Harasjömåla
Gillesnäsvägen 39
S-293 91 Olofström
Sweden
Phone: +46 (0)454 – 47050
Go to website for more info
---
---
Cottage in Listerby Archipelago
Fishing close by: Listerby Archipelago, Torafjärden, Kuggebodafjärden, Kålfjärden, Blekinge Archipelago, river Ronnebyån, river Nättrabyån, 50 km to river Mörrumsån salmon fishing.
We rent out our cabin located in Norrekåsa in Listerby archipelago. The cottage is right by the sea and has a jetty where you can tamper your boat.
Boat launching ramp are found in the nearby Slättanäs harbor. The trailer can be parked on the cottage plot.
The cottage is about 35 sqm and consists of living room with sofa bed, bedroom with two beds, fully equipped kitchen and a small bathroom with toilet and shower.
The cottage is completely animal and smoke free.
Small boat with smaller outboard motor can be rented.
The cottage is for rent during March to October.
Price (valid for 2018): 4000 SEK/full week and 2500 SEK/weekend. 1000 SEK must be paid when making reservation and the rest must be paid before arraival.
Cleaning and bedding is not included in the price.
For questions or reservations please contact Anna-Karin by e-mail: aksskiold@hotmail.com or phone: +46(0)739-834336.
---
---
Hallandsboda Bed & Breakfast
Fishing close by: Mörrums Salmon Fishing, River Mörrumsån
Open all year round. We have 6 cabins, 20 m², for rent. Located just 100 m from river Mörrumsån in farming surroundings. The cabins are equipped for self catering, with bed-sofa, 2 beds, Trinett-kitchen, microwave, coffe maker, and other kitchen utensils. Shower, WC, washing machine, sauna, reception and breakfast serving are located in a nearby service building. This building can also be used for conferences.
City of Svängsta is just 6 km away, here you have mini market, postal office, pizzeria, swimmingpool and more. Larger cities Mörrum and Karlshamn are just 20 min away by car.
Address:
Hallandsboda Bed & Breakfast
Hemsjövägen 1093-38, Hallandsboda
SE-376 93 Svängsta
Sweden
Phone: +46(0)703068705
E-mail: info@hallandsboda.se
www.hallandsboda.se
Contact persons: Emil och Evelina